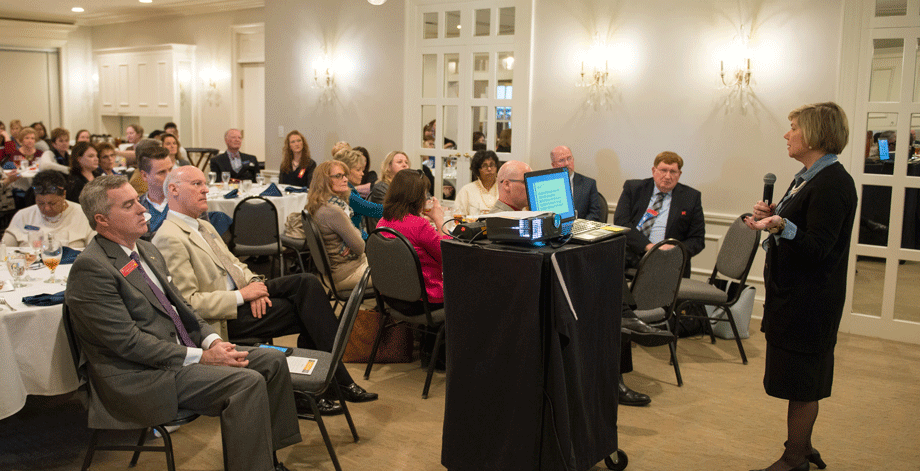 We have no fewer than 10 lunch meetings each year with guest speakers to help educate Members.
Guest Speaker Schedule:
January 15 – Abby Donnelly, Nationally-Known Speaker and Trainer on "The Benefits of Networking – for your Career and GMDM."
February 19 – Dr. Karen Pollard, Clinical Neuropsychologist, on "How to Harness Your Brain power & Increase Your Productivity."
March 18 – Luncheon cancelled.
April 15 – Gerry Chapman, Immigration Attorney on "An Overview of the Current Immigration System for Hiring Employees."
May 20 – Speaker TBD on "What Employers Need to Know about Allowing Politics into the Workplace."
June 17 – Cheri Timmons, Health & Wellness Coach, LCSE, on "The Six Secrets to a Better Night's Sleep."
July 15 – No Guest Speaker. GMDM Scholarship Awards.
August 19 – Mark Moser, MBA, Human Resources Specialist, on "The Importance of Culture in your Organization."
September 16 – Beth Langley, Employment Law Attorney, on "The Ever-Changing COVID-19 Considerations in the Workplace."
October 12 – Gerry Chapman, Board Certified Immigration Attorney, on "An Overview of the Current Immigration System for Hiring." 
November 18 – Felicia Brown, Owner of A to Zen Therapy on "Overcoming Anxiety, Procrastination & 'Don't Wanna' Syndrome."
January 20 – Clay Gibson, VP of Business Development with Lab Corp on "Lab Corp's Role in Fighting the COVID-19 Pandemic."